Getting your first job in the tree care industry can be very exciting. Entering this new world will be wrought with reward as well as danger, in many forms. The purpose of this article is not to list and detail the risks and rewards associated with this industry, for they are too numerous, but rather to encourage a healthy state of mind in the young Arborist that hopefully will help you to be successful while remaining as safe as possible. There is a saying that is common amongst tree climbers that will be repeated throughout this article "Slow and Low". It is the concept of taking things slow and becoming comfortable with a certain task, piece of gear, etc. at a low elevation before attempting to perform at height.
Typically if you are starting out in tree care you are being presented with an "earn to learn" situation, meaning you will be able to learn a new trade while simultaneously earning an income. You will most likely be expected to learn quickly and show that you can work hard and be safe at the same time. It is very important to observe and acknowledge the forces at play around you and communicate with your superiors if you have relevant questions or are unsure of a work practice. Hopefully you will be working with someone who has the knowledge and ability to explain things to you and put your mind at ease. If not you may want to seek the advice of a professional whose abilities and knowledge are proven, also seek to educate yourself.
There are many great resources available to the modern Arborist, depending on your situation, the company that you work for may have many resources at hand or you may have to seek out these things on your own; either way it is important to use every available resource to your advantage. A valuable text to the aspiring Arborist is "A Tree Climbers Companion" written by Jeff Jepson, which covers many basic terms, techniques, knots etc. that will aid you greatly. "The ISA certified Arborist study guide" is also a great way to establish a solid platform of knowledge to build on, add in "The Art and Science of Practical Rigging" by Peter S. Donzelli and Sharon J. Lilly and "The Fundamentals of General Tree Work" By Jerry (G.F.) Beranek and you will be heading in the right direction.
Excerpt from "A Tree Climber's Companion"
Beyond printed literature there is an incredible amount of information available through on-line forums, YouTube, and many other forms of media. Keep in mind that you must be very discerning while taking info off the net as there are many un-safe practices that can be witnessed through this media. Maintain the "Slow and Low" mindset and you will not be overburdened with information or have an accident trying out a technique that you saw on a YouTube video.
Visiting trade shows and tree climbing competitions is another great way to familiarize yourself with safe and current practices in the industry. Here you will find gear, techniques, and abilities show cased at the highest level as well as educational lectures, seminars and professional demonstrations. There are also many companies, such as Abormaster, which provide hands on training with the best of the best.
Arbormaster training seminar.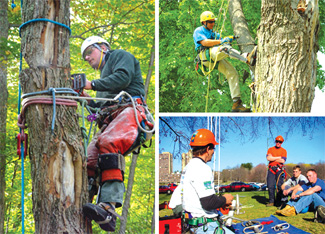 Exploring the resources outlined in this article, remembering to watch, listen and converse as well as maintaining a healthy lifestyle and mind set should set you in the right direction for succeeding in the tree care industry. Keep it "Slow and Low" and DO NOT proceed if you are unsure, have fun and BE SAFE!