Digital marketing has never been more important than it is today in 2019. Some businesses choose to focus on traditional outlets, but the truth is, in 2019 you won't be getting a lot of new costumers from a printed phonebook. Tree working services are no different. A lot of potential customers will be local based, and competition might be fierce.
Today there exists a lot of possibilities in digital marketing like Google Ads, Facebook ads, Google My Business, e-mail marketing and optimizing your site for search.
A lot of businesses have trouble navigating the waters when starting out in new marketing channels. Some businesses believe video media-based platforms have a lot of barriers to entry to get started with content, but it's not true. You don't need a 10.000 dollar budget or a IMAX camera setup to get started producing video content for YouTube and Facebook.

More than 6 billion hours of YouTube videos is viewed each month and YouTube processes more than 3 billion search queries every month. Your audience will be present among all these searches.
In this article we will be focusing on YouTube, showing some cases and summing up how you can use video content in search results to promote your business and to build your brand.
The mechanics of YouTube
Google is the biggest search engine out there right now, but a lot of people forget that YouTube has its own search engine and is integrated with Google. This means when doing a search on Google you might be presented with a video result hosted on YouTube. If you search "How to trim a tree" on Google, the search result below appears. So, the top result is a video hosted on YouTube. Especially "How to" search queries will often prompt a video result.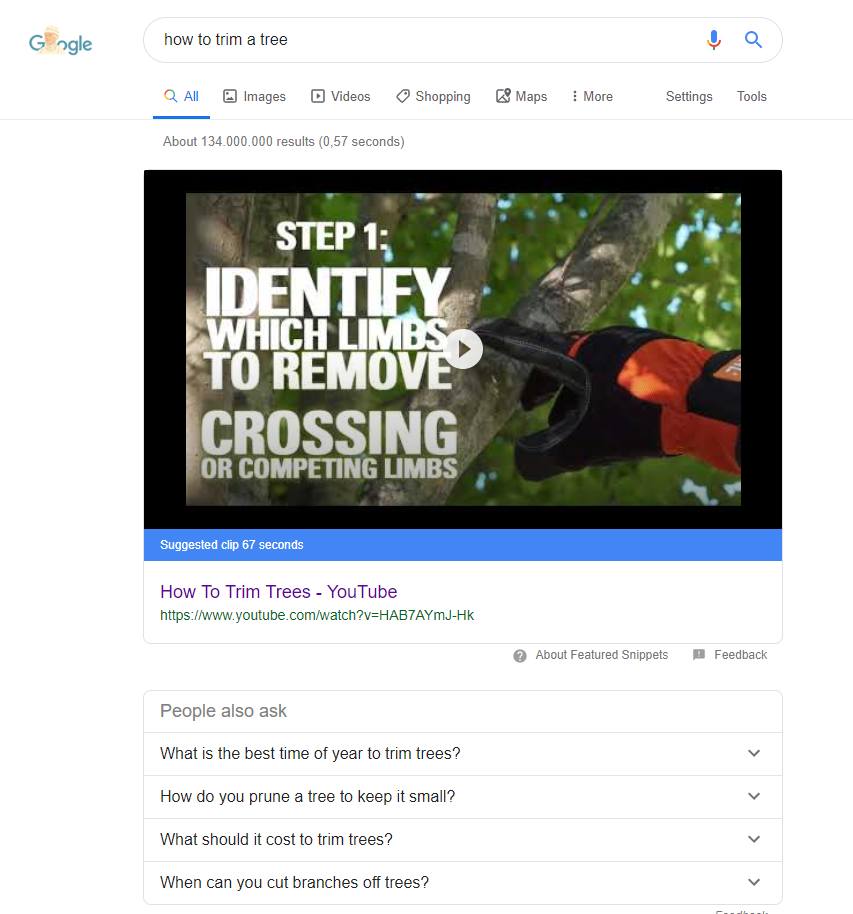 So, how does YouTube work?
Just like the Google search engine, YouTube needs to sort and rank all the video content that is hosted. This, like Google, is sorted by an algorithm that takes in multiple factors into account. Below are some quick points on what to remember:
Get the basics right
Time spent viewing the video, length of the video, comments, social shares, and likes all matter to YouTube. Do what you can to make these things happen. Create content that is at least 1 minute long and remember share it on your other platforms to get as much engagement as possible.
Don't be afraid to give a little bit away
When you're doing video content you might be apprehensive to give all your knowledge, tips and tricks away. You might think "If I teach everybody to do the work I do as a treeworker, I will be out of a job" But this is very rarely the case. You have years of experience and training. Being a treeworker is not for amateurs and most people will see it that way. You can focus of sharing your knowledge on topics you know your target audience might be looking for. This might be content about tree maintenance, when to plant trees, how to ensure they grow properly, how to prune trees and shrubs. The list goes on.
Quality over quantity
It's better to make one good video than 3 bad ones. The quality of the content is essential for answering the users search.
The title of your video matters.
The title of your video needs to have a title that includes your search term and something that makes it click worthy. This is very important. As the amount of clicks your video gets from users is also part of the equitation of how YouTube values the content.
Tag your video
YouTube has a function when your uploading vidoes, where you can tag your content with tags. Use your most important and relevant keywords here. Examples could be:
"How to cut down an oak tree"
"treeworking"
"treeworker"
"felling an oak tree"
"removing oak tree"
Describe your content
Remember to add a link to your website. This is very important – The whole reason we are uploading content is to get more business, so your customers need to find your website.
Make a unique text about your video and do not reuse it. Put together at least 180-220 words about your video and explain the gist of the context. Use the keyword that you are trying to rank for like "How to trim a tree". Remember to use a language rich in synonyms.
Subtitles and transcriptions
Add a transcript of the video as this is also content used by the search engine to understand the context of the video. This is of course only relevant if you have speech in your video.
No keyword stuffing in your videos
Don't make multiple videos targeting the exact same keyword. This also goes for your description and title – Don't overuse your keywords. This will be viewed as spam by YouTube.
Add a custom thumbnail
YouTube gives you 3 images to choose from as a thumbnail. These are often not the best, so if you have the time upload an engaging image that users want to click. If this proves to bothersome then at least choose the best thumbnail YouTube provides. Remember getting clicks is important as the user will always click the video that looks the most interesting.
Make a playlist with your videos
Not only is this something that's good for YouTube to understand the context of your videos, but your videos will autoplay once completed by the viewer. This means you get more views overall and the user might spend more time on your YouTube channel.
Cross posting content
Managing multiple platforms can be time consuming, so focusing on a few channels is always recommended. Most businesses use Facebook these days, and here your video content can also work.
Using music on YouTube videos
Remember to use music that won't get you into trouble with copyright infringement. Using copyrighted music might mean your video can't be uploaded to YouTube or will be removed and can cause legal problems. Luckily, there are several websites where you can find music for free use or where you just need to credit the artist in the video description.
Case: Henrik Ravn Træpleje ApS in Denmark
Henrik Ravn Træpleje is a tree service company based in Copenhagen, Denmark. They have been working in the business since the 1960s and know keeping up with the competition and getting new clients is essential to keep their business growing.
Henrik Ravn Træpleje uses video content in their marketing for several reasons. The content is used on their website to display their company and who they are to their clients. A picture is work a thousand words, so video content immediately gives a sensation of the company and the members of the team.
What equipment does it take to make YouTube Videos?
A lot of results can be made with a GoPro, or just a regular mobile phone. Smartphones of today are advanced enough to shoot high quality video and produce content that works well on YouTube. Another option is using a drone if you have access to that. Drones have reached a price that makes sense for most and operators are common in video production companies, so the prices are not as steep as they were once. A drone can give some great landscape shots. Henrik Ravn Træpleje used a drone for these shots of their work in the royal gardens of Frederiksborg Castle near Hillerød, Denmark. https://www.youtube.com/watch?v=dDEP45KRaDI&t=3s
A small fish in a big sea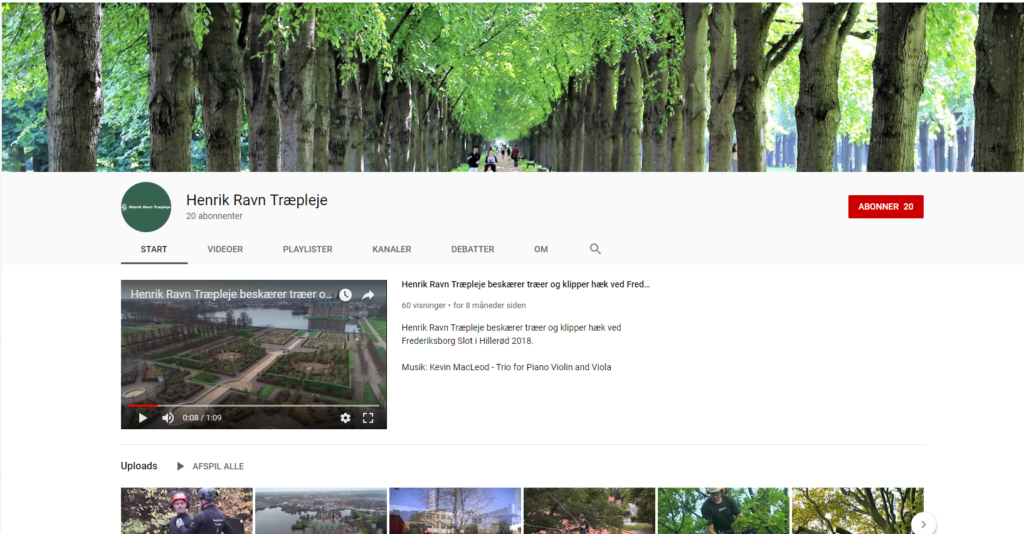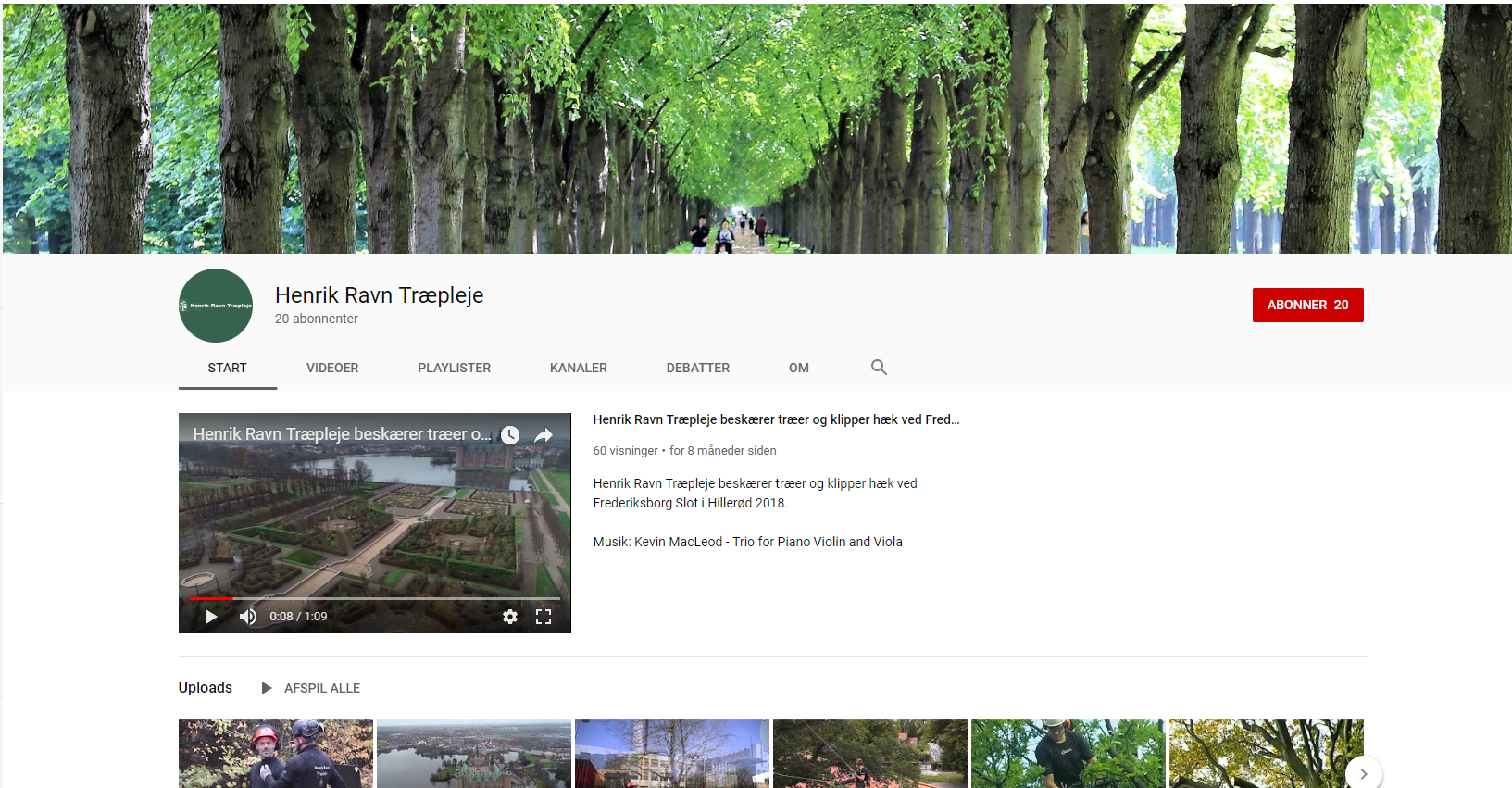 Several of Henrik Ravn Træplejes videos has between 1000-5000 views, even though they are based in Denmark which is a country with about 5.7 million citizens. This is achieved following the recipe above and also using local city names and regions in their video descriptions.
If you want to know more have a look at the Henrik Ravn Træpleje ApS YouTube Channel