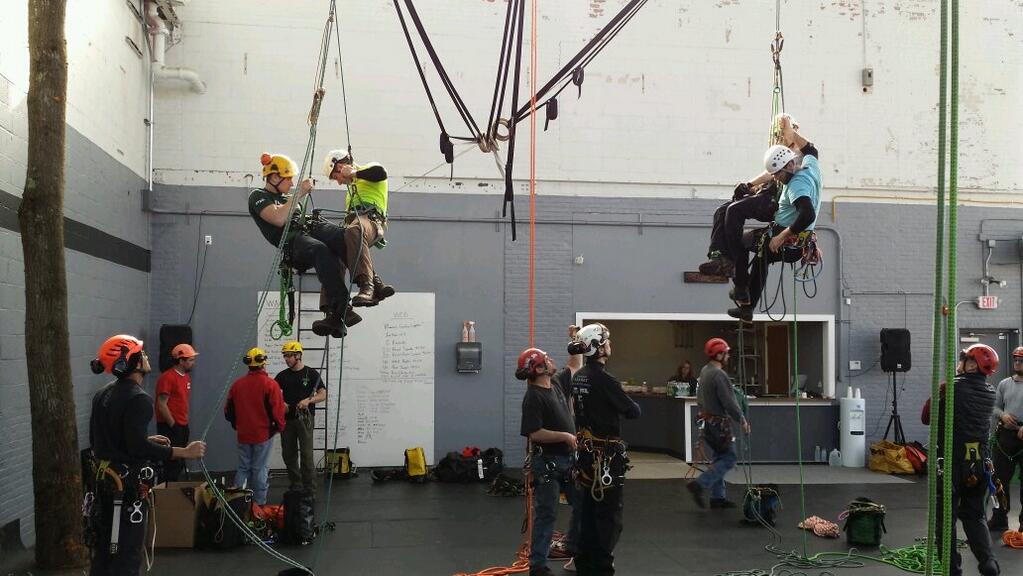 During the winter months when work slows down, it's hard to find worthwhile events to attend. In 2014 this was not the case-at least in the Northeast.
Brian Noyes of Ocean State Arborist Training created a venue that will no doubt be duplicated in the years to come. His creative approach to aerial rescue training was not ony well-received, but it has left all of the attendees wanting more!
The first thing he did was recruit myself and fellow World Champion Tree Climber Jared Abrojena to help with the instruction. Then he searched for the perfect venue. What he find was a perfect fit- a CrossFit. He contacted his local CrossFit gym and asked if they'd allow such a learning experience in their facility. Why there? First, they had the open space. Second, it had a high ceiling and open steel beams from its previous life of a factory. And lastly, it was indoors in February! Luckily they agreed and the plans moved ahead.
The two-day event was a mix of indoor theory matched with hands-on practical training. The focus was on getting the participants to understand what it takes to control an emergency situation and perform different rescue scenarios. The unique nature of this workshop allowed us to bring actual tree trunks indoors and secure them to the beams and practice spar rescue. Why spar rescue? Because it is one of the hardest to perform and one of the least practiced techniques. We also went through work positioning rescues and ascent rescues, with a focus on SRT ascent rescues.
What Brian did here was fantastic on all levels. I'm so convinced that I will bet you'll see it offered again real soon!