Ohio Fall TCC – 2014 – Nick Markley Wins
GJM Rev: 141216 1600 Nick Markley won Ohio's Fall TCC on December 13, 2014 at Jeffery Park in Bexley, Ohio. Nick's techniques, innovation & "vision-for-the-climb", are improving by leaps between TCC's. In the Master's, Nick used an innovative combination of 2 separate & independent SRT systems to reach the first 2 of 4 stations. Each system used a Rope Wrench hitch system, with a basal tie to the base of the oak tree. The primary system was installed very close to the Plumb Bob Station, it ran high into a good "high-point / tie-in", & finally back down to the trunk. His 1st throw line attempt with a Big Shot was spot-on. A second system was installed, ran close to 1 of the 2 Hand-Saw Stations, & back to the base of the trunk. These first 2 stations were approximately 25 feet apart horizontally, at slightly different elevations, and on two different tree leads. Both climbing systems were attached to his harness at the start of the climb. (See Photos)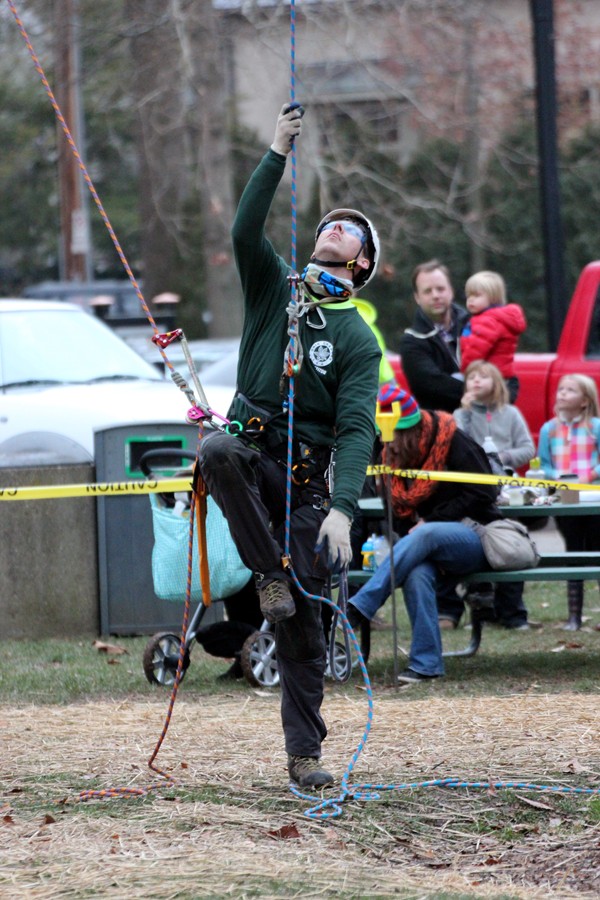 He ascended on the primary to the Plumb Bob & rang the bell, while maintaining slack on the secondary, as a safety back-up and for efficiency to reach the 2nd station. He disconnected from the primary, to advance around several large vertical sprouts; & then reconnected it. Next he transferred, mid-air, over & onto the secondary system to ring the 1st hand bell.He transferred back to the primary system.
Then he abandoned the secondary system from his harness, and ascended to near the "high-point / tie-in". After some redirect / rope management, he proceeded to the remaining hand-saw & limb-toss stations.
The decent & gear removal were very smooth & efficient. Very Nice, Smooth Climb !
The winners at the December 2014 Ohio Chapter ISA Tree Climbing Championship:
MASTERS' CHALLENGE
Men's Division:
1st Place – Nick Markley (Madison, OH)
2nd Place – Justin McVey (Columbus, OH)
3rd Place – Jacob Sauer (Columbus, OH)
Women's Divison:
Ellie Vosler (Columbus, OH) finished the necessary Preliminary & Masters' events to qualify for the ITCC.
PRELIMINARY EVENT WINNERS
Work Climb
1st Place – Justin McVey (Hilliard, OH)
2nd Place – Nick Markley (Madison, OH)
3rd Place – Brian Griffith (Loveland, OH)
Aerial Rescue
1st Place – Jacob Sauer (Columbus, OH)
2nd Place – Johnston Duffey (Westerville, OH)
3rd Place – Justin McVey (Hilliard, OH)
Belayed Speed Climb
1st Place – Jeremy Dunivan (Belleville, IL)
2nd Place – Justin McVey (Hilliard, OH)
3rd Place – Jacob Sauer (Columbus, OH)
Secured FootLock
1st Place – O. Gassaway (Athens, OH)
2nd Place – Jacob Sauer (Columbus, OH)
3rd Place – Chris Coates (Odenton, MD)
ThrowLine
1st Place – Jeremy Dunivan (Belleville, IL)
2nd Place – David Meurer (Troy, OH)
3rd Place – Nick Markley (Madison, OH)
Other participating climbers at the Ohio TCC:
Blake Durr (Edwardsville, IL)
Brian Gadd (Milford, OH)
James Hazelrigg (Sunbury, OH)
Daniel Hurst (Dumas, AR)
Ryan Lewis (Chesterland, OH)
Scott Meeks (Columbus, OH)
Eric Moell (Loveland, OH)
Alex Nordquest (Columbus, OH)
Johnny Provenzale (Columbus, OH)
Nathan Smith (Columbus, OH)
Rod Snyder (Hilliard, OH)
References: Photos – Lisa Carrelli-Kraus; Co-Owner of Independent Tree, Newbury, OH Climber – Nick Markley; Independent Tree, Newbury, OH Retired – GregManning – OHTCC Results- Dixie Russell; Executive Director of the Ohio Chapter